Last Living Survivor of the RMS Titanic
|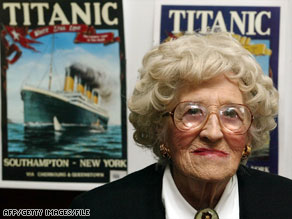 I had the privilege of producing an award-winning radio interview with Millvina Dean, the last living survivor of the RMS Titanic.  The interview aired on the Phillips & Company Morning Show on KYKY-FM in 1997.  Guy Phillips and Michelle Dibble were the two that carried the interview. At the time of this recording, seven survivors were still alive.  Dean explained how she was only two months old and the youngest member of the voyage.  She spoke about the story of the sinking that was told to her by her family and also promoted the  30th anniversary voyage of the QE2 that would sail along the same route as the RSS Titanic.
The interview can be played at the top of this post, or you can read it from SoundCloud directly here: Last Living Survivor Of The RMS Titanic.
I've been fascinated with the Titanic ever since I was a child. I even owned the "Sinking of the Titanic" board game [PHOTO OF BOX, PHOTO OF GAME], which is kind of a sick idea when you think the objective of the game is to collect passengers, food and water by stealing from others and getting to the rescue boat first. I remember reading books about it and seeing the pictures of the ship when they discovered it at the bottom of the ocean.  I vividly remember the success of the Titanic movie in 1997 and how it stayed on the top movie chart for 15 consecutive weeks.
Dean has been in the news recently.  She has been forced to sell her mementos from the ship to help pay for her nursing home fees.  Unfortunately, the auction failed to bail her out.
It's been many years since this interview, bu today is the 97th anniversary of the maiden voyage, so it brings back the memory of this interview for me.  Let's hope she makes it to April 2012 for the 100th anniversary.
UPDATE 5/31/2009: The 97-year-old Dean died of pneumonia on the morning of May 31, 2009, the 98th anniversary of the Titanic's launch,at a care home in Ashurst, Hampshire.
UPDATE 4/10/2012: I added the links to the board game above on this 100th anniversary of the ship departing Southampton.
UPDATE 4/26/2014: I moved this radio interview to SoundCloud. Here's the external link.
Parse error
: syntax error, unexpected 'JavaScript' (T_STRING) in
/home2/bigredar/public_html/obrienmedia/wp-content/plugins/livefyre-comments/src/display/comments-template.php
on line
32